Which project are you working on at the moment?
I am working on stable cassava transformation at the FAU Erlangen since the beginning of 2020. We are relying on the generation of transgenic plants expressing rationally designed gene stacks to improve cassava yield. As our understanding of cassava physiology and biochemistry increases, so does the number of ideas and concepts for transgenic plants. Our partners at the Plant Biotechnology and Plant Biochemistry of the ETH Zurich have been efficiently transforming cassava since 2009 and have great expertise with this process. However, the project would profit greatly from additional cassava transformation and tissue culture capacity. After being offered the kind opportunity to learn the most critical steps of cassava transformation from Dr. Ravi Bodampalli Anjanappa at the ETH Zurich, I took steps to establish this method at the Biochemistry of the FAU Erlangen. All major steps in the generation of transgenic plants are progressing great and we will likely be able to contribute our first confirmed transgenic cassava in the coming weeks.
What is a typical day like for you?
The great thing about tissue culture work is that all steps are timed very tightly and can be planned accordingly. In light of the coronavirus pandemic, this enabled us to carry on with our work in spite of all necessary restrictions and precautions that needed to be met in working life. So, especially now, part of my day is occupied by keeping track of recent progress, planning ahead for the upcoming steps of the transformation protocol and managing general lab requirements. However, I am always eager to put on the lab coat and get to the wet lab by myself whenever possible.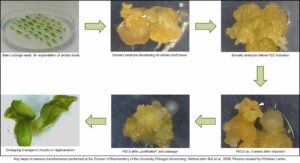 What are the hardest parts related to your research?
Transferring a transformation method into a different lab can be quite challenging at times. To be honest, our group was expecting several failed attempts at first. Fortunately, we have not run into severe issues but have been making good progress so far! I think this is mostly due to the excellent introduction by our colleagues at the ETH Zurich and I would like to highlight Dr. Ravi Anjanappa Bodampalli for his great support! Of course establishing a new protocol is always thrilling for me and might even become stressful at times, however the hardest parts are probably yet to come when increasingly high numbers of transformations are running simultaneously.
Why did you choose to work in plant science research?
During my Master's studies, I became interested by plant-pathogen interactions: I found it fascinating how the often-cited evolutionary arms race between host and pathogen is adding layer among layer in the fight for immunity or susceptibility. Hence, for my PhD-thesis I investigated how certain plant viruses usurp the molecular machinery of the plant to their own ends and what implications this brings for both. The CASS Project started towards the end of my PhD and drew my interests because of its versatility and application. The idea of my work having a positive impact on agriculture, especially in poor regions of the word, gives me great motivation.
Besides your scientific interests, what are your personal interests?
I enjoy photography very much – the modern digital variant and even more classic photography on film, since this takes a lot more imagination and also requires more skill to get the shot done properly. Although I am a long way from being a professional, I especially like the creative process from idea to printed image and how it teaches you to look for new perspectives!